NFAK Lines- Urdu Poetry
Urdu Shayari – NFAK Lines
People read Sad Urdu and Hindi Shayari with great passion we have many good poets,. who wrote excellent  Sad Urdu poetry. if we look at sad Urdu poetry read and write in our culture. we are going to share with you Sad Urdu Shayari – Khushbo Urdu Poetry. Read the best Sad Urdu Shayari largest collection by categories like love shairy, sad Poetry…
Hairan Hun Iss Baat Par, 
Tum Kon Ho Kia Ho?
Hath Aoo To Butt,
Haath Naa Aoo to Khuda Ho 
Laakh Wo Guraizaa'n Hoon!
Laaakh Dushman e Jaaa'n Hoon!
Dil Ka Kia Karen Sahab?
Ham Unhee Pay Marty Hain
Teri Nazroo'n Ki Haqeeqat Ka Koi Mujh Sey poochy
Aaankh Ki Aaankh Hai, Paimany Ka Paimana
Dil Jis Sey Zinda Hai, Wo Tammana Tum He To Ho
Ham Jis Main Bas Rahy Hain, Wo Dunya Tum He To Ho
Yeh Dil He Tha Jo Seh Gaya
Wo Bat He Aici Keh gaya
Kehny Ko Phr Kia Reh Gaya
Ashkoo'n Ka Darya Beh Gaya
Dil Nahhee Lagta, Sehn e Gulshan Main
Tera veerana Yaad aaata Hai……………….!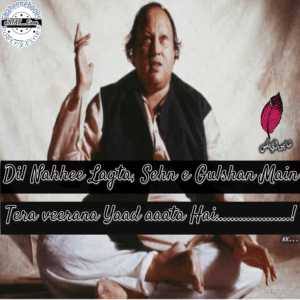 Tuu Roz Roya Kary Chand Ratoo'n Main
Khuda Kary Tera Mery Baghair Jee Na Lagy
Aaaj Mil Kar Bhee Uss Ney Naaa Koi Bat Ki
Haey Majbooriyaa'n Mery Haalaat Ki
Aaankhain Uth Kar Jhukii  To Ada Ban Gaee
Aaankhain Jukh Kar Uthe To Dua Ban Gaee
Mera Naaam jin Laboo'n Par Kbhe Khailta Tha Barsoo'n
Meri Jaaan Main Wohee Hun, Mera Aitabaar Karna
Dunya Wichry Naiii Parwa
Dildaaar Naa Wichryy……!
Be Wafa Sey Bhee Payar Hota Hai
Yaar Kch Bhee Ho Yaar Hota Hai
Achi Soorat Ko Sanwany Ki Zaroorat Kia Hai
Sadgee Main Bhe Qayamat Ki Ada hoti Hai…....
Kafan Main Khud Ko Chupa Liya Hai,
K Tujh Ko Pardy Ki Ho Na Zehmat
Naqaab Apny Liye Bana Kar
Hijaab Tera utha RAha Hun
Yeh Hai Dunya Yahan Kitny Ahl e Wafa
Be Wafa Ho Gaey Daikhty Daikhty 
Khuda K Liye Chor Do Abh Yeh Parda
K Hain Ajj Ham Tum, Koi Ghair Nahee
Roz Ka Intezaar Kon Kary
Aaap Ka Aitabaar Kon Kary
Wo Bhee Apny Naa Huwey, Dil Bhee Gaya hathoon Sey
Aicy Aaany Sey To Behtar Tha, Naa Anaa Apkaa……
Inkii Masoomiyat Par Naa Jana
Inky Dhoky Main Hargiz Naa Aana
Loot Lety Hain Yeh Muskura Kar
In Ki Chaloo'n Sey ALLAH Bachaey
Wo Or Bhe Yaad Aa Rahy Hain
Main Jitna Unko Bhula Raha Hun
Kiya Dil Mera Nahee Tha Tumhara, Jawab Do
Barbaad Q Kiya Hy, Jawab Do……………………!
Yeh Jo Hichkiyaan Musalsal Mujhe Aaa Rahee Hain Aaalam
Koi Ly Raha Hai, Mera Naaam Chupky Chupky………………….
Aaap Aye Hain Ghareeb Khany Main
Sach To Yeh Hai, Mujhe Yaqeen Nahee
Aap K Rooh e Yasneen Ki Qasam 
Chand Bhe Aaap Sey khoobsurat Nahee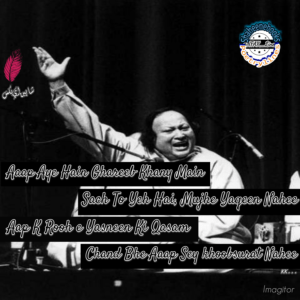 Maine Daikha Usyy Ibteda Ho Gaee
 Uss Ney daikha Mujhe Inteha Ho Gaee
Mery Jitny Bhee Yaar Thy
Sab Ney Hasb e Toufeeq Bewafai Ki
                           Jis Ka Dil Ham Ney Tora Tha
                   Jany Wo Keca Hoga
Muhabbat KAro To Adaab e Wafa Bhee Seekho
Rony K Liye Sirf Muhabbat He Nahee The
Gham Or Bhee Thy, Fasana Dil Ka he Nahee Tha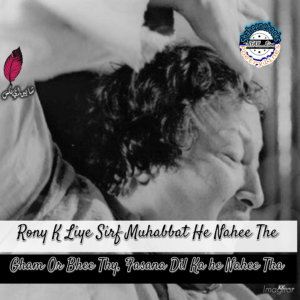 Yeh Bhool Bhe Kia Bhool Hai
                                                                Yeh yaad Bhe Kia Yaad Hai
                                                Kch Bhee To Nahee Unki Muhabbat K Siwa Yaad
Tery Wady PAr kAhan Tak Mera Dil Fareb Khaey
Koi Aica KAr Bahana Meri Aas Toot JAey
Jahan Lut Gya Hai Sukoon e Dil
Ussi Rah Guzr Ki Talash Hai
ALLAH Na Milny K Bahany Thy Hazaaroo'n
Milny K Liye Koi Bahana He Nahee Tha
Khata e Muhabbat Ki Achi Saza Di
Mery Dil Ki Duniya Bana KAr Mitta Di
Rony K Loye Sirf Muhabbat He Nahee The
Gham Or Bhi Thy Dil Ka Fasana He Nahee Tha
Kahloos e Dil Sy Jo Ali Ka Naam Leta Hai
Wohee To Lazatain Umr e Tamam Leta Hai
Kiya Dil Mera Nahee Tha Tumhara, Jawab Do?
Barbad Q Kiya Hai Khudara Jawab Do….
Kiye Hain Kch Aicy Kara Dostoo'n Ney
K Ab Dushmanoo'n Ki Zarurat Nahee Hai
Teri Zulf Sy Dil Ko Yu'n Lagao Hai Jecy
Teri Zulf Nagan hai, Mera Dil Sapera Hai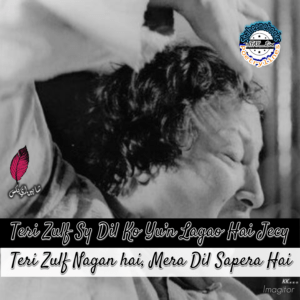 Kia Tujh Ko Jahan Waly Sitamgar Nahee Kehty?
Kehty To Hain, Tery Munh Par Nahee Kehty…….
Tazkara Jbh Wafa Ka Hota Hai
Main Tumhari Misal Deta Hun
Jahan Tum Ney Chehry Sey Anchall Hataya
Waheen Ehl e Dil Ko Tamasha Banaya
Qayamat Ka Din Ayega Rafta Rafta
Mulaqat Ka Din Badalty Badalty
Teri Nazroo'n Sey Pee Hai Khuda Ki Qasam
Umar Sari Nashey Main Guzr Jaey Gi
Aik Nazar Murh K Daikhny Waly
Kia yeh Khairat Phr Nahee Honge?
Shab Bhar Hans K Guzar Li
Gham e Ishq Dil Sy Laga Liya
Mery Jazba e Shoq Ki Dad Dy
Main Har Imtehan Sey Guzr Gya
Lutf e Dozakh Bhi Hy, Lutf e Jannat Bhi
Haye Kia Cheez Hai Muhabbat Bhi
Main Ney Uss Ko Itna Dakha Jitna Daikha Jaa Skta Tha
Phr Bhi Akhir Do Aankhoo'n Sey Kitna Daikha Jaa Skta Tha
Dil LAgi Bhi Tery Dil Ko Naa Lagy
Tu Roz Roya Kry Uth Kar Chaand Ratoo'n Main
Khuda Kry Tera Mery Bgair Jee Na Lgy
Jay Tu Akhiyaa'n Dy Samney Nahee Rehna 
Ty Biba Sada Dil Mor Dy
Teri Zaat Ny Bana Di
Meri Zindagi Fasana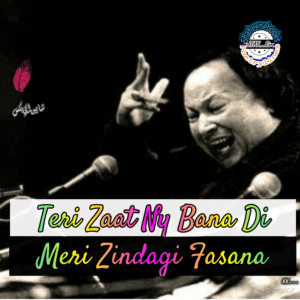 Kiven Mukhry Tu NAzraa'n Hatawan
Ky Tery Wichoo'n Rab Disda
Jee Krada Main Tenu Waikhee JAwan
K Tery Wichoo'n Rab Disda
Achi Soorat Ko Sanwarny Ki Zaroorat Kia Hai
Sadgi Main Bhi Qayamat Ki Ada Hoti Hai
Ishq Ko Roug Maar Dety Hain
Aqal Ko Souq Maar Dety Hain
Admi Khud Ba Khud Nahee Marta
Doosry Loug Maar Dety Hain
Lakh Vari Je KAro Dua
Ek War Na Vichry
Kisy Daa Yar Na Wichry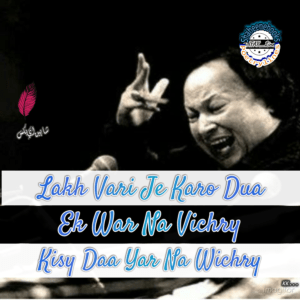 Teri Dil Lagi K Sadqy
Teri Sang Dili K Qurban
Mery Gham Py Hansny Waly
Tujhe Konsi Dua Du'n
Yeh Jo Halka Halka Suroor Hai
Teri Nazar Ka Qusoor Hai
K Sharab Peena Seekha Diya
Yeh Isq Nahee Asaa'n 
Bas Itna Samajh Lijiye
Aik Aag Ka Darya Hai
Or Doob k Jana Hai
Kehty Ho Mujhe IShq Ka Aafsana Chahiyee
Ruswaii Ho gee, Apko Sharmana Chahiyee
Dil Ki Aik Choti Si Kahani hai
Ap Sun LAin To Meharbani Hai
Husn Waly Wafa Nahee Krty
Ishq Waly Dagha Nahee Krty
Zulm Krna To In Ki Aaaadat Hai
Yeh Kisi Ka Bhala Nahee Krty
Yeh Dil He Tha Jo Seh Gya
Wo Bat Aici Keh Gya
Kehny Ko Phr Kia Reh Gya
Askoo'n Ka Darya Beh Gya
Main Naseeb Hun Kisi Or Ka 
Mujhe Mangta Koi Or Hai
Fareb e Nazar Hai
Nazar Ki Lagawat
Itni Qasmain Na Khaoo Ghbra Kar
Jaoo Ham Aitabar Krty Hain……….
Main To Is Wastey Chup Hun K Tamasha Na Bany
Tu Smajhta Hai Mujhe Tujh Sey Gila KCh Nahee
Jaam Par Jaam Peeny Sy Kia Faida
Rat Guzri To Sari Utar Jaey Ge
Teri Nazroo'n sy Pee ha
Khuda Ki Qasam Umar Sari Nashy Main Guzar Jaey Ge
Ham Hosh Bhi Apny Bhool Gaey
Emaaan Bhi Apna Bhool Gaey
Ik Dil He Nahee Uss Bazm Main Ham
Na Jaany Kia Kia Bhool Gaey
Dikhai Bhi Jo Na Dy 
Nazar Bhi Jo Aaa Raha Hai
Wohee Khuda Hai
Wohee Khuda Hai
Un Ko Bhool Jany Ka Dil Kahan Sy Laoo'n Main….
Mery Baad Phr Tum Naa Kisi Sy Pyar Krna……
Jo Bat The Unko kehny Ki
Wo Bat He Kehna Bhool Gaey
Ghairoo'n K Fasany Yad Rahy
Ham Apna Fasan Bhool Gaey
Mushkil Askoo'n Ko Chupana LAgta Hai
Dulhan Ka To Dil Diwana Lagta Hai
Pal Bhar Main Kecy Badalty Hain Rishty
Ab To Har Apna Baigana Lagta Hai
Marny Ki Dhamki Dy KAr Manany Ka Tareeqa Kahan Sy Seekha Hai
Main Jis Halat Sy Pohancha, Hashar Waly Bhi Pukar Uthy
Koi faryad Wala Aa Raha Hai, Rasta Dena
Raah Asaan Ho Gaee Hai
Jaan Pehchan Ho Gaee Hai
Phr Palat K Nigah Nahee Ayii
Tum Py Qurban Ho Gaaee Hai
Tera Zulm Nahee Hai Shamil Agar Meri Barbadi Main
Teri Aankhain Bheeg rahee Hain Q Mery Afsany Main
Muhabbat Ab Nahee Rahee Zamany Main
Ab Log Ishq Nahee Mazaq Krty Hain
Kitny Badal Gaey Hain Wo Halat Ki Tarah
Jbh Bhi Milty Hain Pehli Mulaqat Ki Tarah
Ibadatoo'n Ka Bhi Hargiz Sila Nahee Milta
Khuda K Bando Suno Ghor Sy
Khuda Ki Qasam Jisy Ali Nahee Milta 
Ussy Khuda Nahee Milta
Ainy Ki Nazar Na Lag Jaey Kaheen
Jaane Jaan Apna Sadq Utaara Kro
Saya Bhi Saath Jbh Chor Jaey
Aici Hai Tanhai, Aici Hai Tanhai
Sona Chahun, Sona Chaun Par Neend Na Aye
Aici Hai Tanhai
Hamary Daman Main To kantoo'n K Siwa Kch Bhi Nahee
Ap To Phooloo'n K Kahreedar Nazar Aty Hain
Hashar Main Kon Gawahi Meri Dy Ga Sahil
Sb Tumhary He Taraf Daar Nazar Aty Hain
Be Wafa Itna Ehsan  Kr Dy
Kam Sy Kam Ishq Ki Laaj Rakh Ly
Do Qadam Chal Ky Kandha To Dy Dy
Tery Aashiq KI Mayyat Uthe Hai
Lakh Wo Guraizaa'n Ho
Lakh Wo Dushman e Jaan Ho
Dil Ko Kia Kren Sahib
Ham Unhee Py Marty Hain
Hashar Hai Wahshat e Dil Ki Awargi
Ham Sy Poocho Muhabbat Ki Deewangi
Jo Pta Poochty Thy Kisi Ka Kbhi
Lapata Ho Gaey Daikhty Daikhty
Bholi Soorat Hai, Batain Hain Bholi
Dil Main Kch Hai, Magar Munh Main Kch Hai
Lakh Chehra Ho Chand Jeca
Dil K Kaaloo'n Sy ALLAH Bachaey
Be Wafa Sy Bhi Pyar Hota Hai
Yar Kch B Ho Yaar Hota Hai
Jis Sy Kia Tha Pyar
Ussi Ny Diye Hain Gham
Sach poochiye To Dil Ka Lagan Azab Hai
Ham Ko Ab Jhooti Tassali Na Dijiye
Gham Main Or Izafa Na Kijiye
Jis Sy Aankhoo'n Main Aaa Jaey Aansu
Wo Khushi Ly ham Kia Kren Gain
Agar Hai Jana To Jaen Lekin
Huzoor Itna Khayal Rakhen
K Hijr e Janaaa'n Main Ik Pal Pal
Gumaan Hota Hai Ik Sadi Ka
Jo Poocha K Kis Tarah Hoti hai Barish
Jabeen Sy Paseeeny Ki Boondain Gira Dee
Jo Poocha Kis Tarah Girti Hai Bijli
Nigahain Milai, Mila Kr Jhuka Dee
Sar Jhuka He Raha Duaaoo'n Main
Kbhi Tujhe Mnagny K Liye
Kbhi Tujhe Bhoolny K Liye
Sitam Gari K Tareeqy Sikhaey Jaty Hain
Haseen Banty Nahee Banaey Jaty Hain
Unki Mehfil Main Jbh Koi Jaey
Pehly Nazrain Wo Apni Jhukaey
Wo Sanam Jo Khuda Ban Gaey Hain
Unka Deedar Krna Mana Hai
Wo Bhi Apny Naa Hwa
Dil Bhi Gya Hathoo'n Sy
Aicy Aany Sy To Behtar Tha
Naa Ana Dil Ka
Zikr Ik Be Wafa Or Sitamgar Ka Tha
Ap Ka Aici Batoo'n Sy Ki Wasta 
Ap to Be Wafa Or Sitamgar Nahee
Ap Ny Kis Liye Munh Udher Kar Liya
Ishq Main Uljhainain pehli He Kam Na Thee
Or Paid Naya Dard e Sar Kr Liya
Log Darty Hain Qatiil Ki Parchai Sy
Ham Ny Qatil K Dil Main Bhi Ghar Kr Liya
Umar Janmoo'n Main Basar Ho 
Yeh Zaroori To Nahee
Har Shab e Gham Ki Sahar Ho 
Yeh Zaroori To Nahee
Neend To Dard K Bistar Py Bhi Aa Skti Hai
Teri Aaghosh Main Sar Ho 
Yeh Zaroori To Nahee