Paband e Wafa Complete Novel by Saniya Shah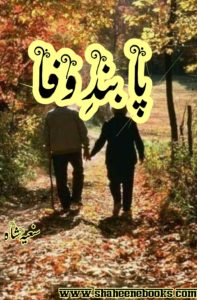 Paband e Wafa novel is the best Urdu novel written by Saniya Shah. Paband e Wafa really shows the fullfilment of promise by the characters in the novel. This novel has beautiful content and words seems to do spell on everyone. Every body who has read this novel till now, has loved it much and appreciated the effort of showing many real things about society.
PABAND E WAFA URDU NOVEL BY SANIA SHAH
Saniya Shah is very famous Urdu novel writer. She has written many novels. She is posting all her novels on her face book page. All people like her novels and also read regularly. All her novels come episode wise on her page but we are providing you here the complete and understandable form of PDF file of "Paband e Wafa" by Saniya Shah.
PABAND E WAFA COMPLETE NOVEL IN PDF
You can download "Paband e Wafa" by just clicking here:
There are many website that provide Urdu Novels pdf, some of them will be able to download famous urdu novels, that why we are giving you with out ad links , you can download Urdu Novels with out any problem.if any our link is not working you can send us message.
آپ ہمیں آپنی پسند کے بارے میں بتائیں ہم آپ کے لیے اردو ڈائجیسٹ، ناولز، افسانہ، مختصر کہانیاں، ، مضحکہ خیز کتابیں، آپ کی پسند کو دیکھتے ہوے اپنیی وہب سائٹ پر شاہع کرے گے