Kae Ratoo'n Sey Na Soya Tha Musawir
Tasweer Ki Ankhoo'n Main Qayamat Ki Thakan The
کئی راتوں سے نہ سویا تھا مصّور
تصویر کی آنکھوں میں قیامت کی تھکن تھی
Guzarta He Nahee Wo Aik Lamha
Idher Main Hun K Beeta Jaa Raha Hun
گزرتا ہی نہیں وہ ایک لمحہ
ادھر میں ہوں کہ بیتا جا رہا ہوں 
Hamarii Ankhain Tujhe Daikhny Ki Ujlat Main
Bht Sy Khas Manazir Chor Kr Iiii Hain…………..
ہماری آنکھیں تجھے دیکھنے کی عجلت میں
بہت سے خاص مناظر چھوڑ کے آئی ہیں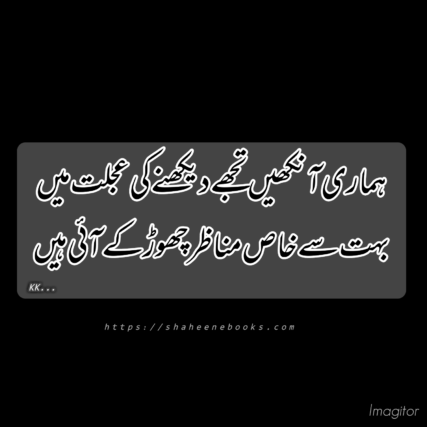 Ashnaa Sey Chehroon K, Ajnabi rRawayoo'n Ko
Seh K Muskurana Dena, Aafreeen Aziyyat Hai
آشنا سے چہروں کے، اجنبی رویّوں کو
سہہ کے مسکرا دینا، آفریں اذیّت ہے
Ankhain Daikh Kr Dang Rehny Walo Zara Sabar Kro
Rukhsar Sey Niqab Jo Sirka To Qayamat Hogi………..
آنکھیں دیکھ کر دنگ رہنے والو، ذرا صبر کرو
رخسار سے نقاب جو سرکا تو قیامت ہو گی
Best Urdu Poetry is always here for you to make you feel free and happy. So be happy and enjoy Urdu Poetry.
???????????
Mery Khush Guma'n!!
tera Hath Chorny Ki Dair The
Daikh Ly Main Giri Nahee
K Tamam Shehar Lapak Pra
Mujhe Thamny, Tery Samny
میرے خوش گماں
تیرا ہاتھ چھوڑنے کی دیر تھی
دیکھ لے میں گری نہیں
کہ تمام شہر لپک پڑا 
مجھے تھامنے، تیرے سامنے