Shamma poetry- Urdu Poetry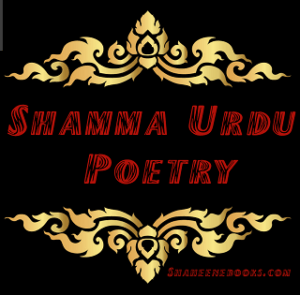 Urdu Shayari – Shamma Urdu Poetry
People read Sad Urdu and Hindi Shayari with great passion we have many good poets,. who wrote excellent  Sad Urdu poetry. if we look at sad Urdu poetry read and write in our culture. we are going to share with you Sad Urdu Shayari – Khushbo Urdu Poetry. Read the best Sad Urdu Shayari largest collection by categories like love shairy, sad Poetry…
Phr Wo Naa Aye Sham Ka Wada Kar K
ham Tamaam Ratt Shamma Jala Jala K Roye
Jis Bazm Main Wo Rukh Sey Utha dety Hain Perda
Parwana Wahan Shamma Py Mail Nahee Hota…….
Abh Tak Dil Khush Feham Ko Tujh Sey Hain Umeedain
Yeh Akhrii Sham'ee'n Bhee Bhujany K Liye Aaaaa………
Rukh e Roshan K Agy Wo Shamma Rakh Kar Yeh Kehty Hain
Udhar Jata Hai Ya Daikhain Idher Aata Hai Parwana
Gahm e Hasti Ka Asad Kis Sey Ho Juz Murg e Ilaaj 
Shamma har Rang Main Jalti Hai Sehar Hony Tak
Wo ishq Jis Ki Shamma Bhuja Day Ajal Ki Phoonk
Uss Main Maza Nahee Tapash o Intezaar Ka
Shama Khaim hai Koi Zanjeer Nahee Ham Safraaa'n
Jis Ko Jana HAi Chala Jaey Ijazzat Keci………………….
Shama ban To Gaey Roshni Ki Khatir
Magar Phr Jalty Jalty Umar Guzr Gaee Apni
Shikwa e Zulmat e Shab Sey To Kaheen Behtar Tha
Apny Hissy Ki Koi Shamma Jalaty Jaty………….!
Apny Jalny Main Kisi Ko Nahee Karty Hain Shareek
Rat Ho Jaey……….To Ham Shamma Bhuja Dety Hain
Pyaar Ki Shamma jala Kar To daikho
Zara Dil Ki Dunya Saja Kr To Daikho
Ho Naa Jaey Muhabbat To Kehna
Zara ham Sey Nazrain Mila Kr To daikho
Zulmat Kdy Mian Mery Shab e Ghma Ka Josh Hai
Aik Shamma Hai Daleel e Saher So Khmosh Hai
Har Shamma Bhuji Rafta Rafta, HAr Khawab Luta Dheery Dheery
Sheesha Na Sahee, Pathar Bhee Na tha, Dil Toot Gaya Dheery Dheery
Lassh Parwany Ki Samny Sey Hatta Dey Koi
Shamma Masoom Hai, Badnaam Ho Jati Hai
Har Shama e Bazme Aish K Shama e Mazar Tuu
Har Hall Ashk e Gham Sey Rahee Hmkinar Tuu
Aey Shamma In Patangoo Ki Tuyjh Ko Kahabar kahan
Jo Apny ishtiaaq Sey Grmi Main Jal gaey………………….
Parwana, Or Zoq e Tamashaey Roshni!
Keera Zara Sa, Or Tmanaey Roshni!
Shab e Furqat Hai Har Shamma Bhuja Do
Mery Apno ! Mujhe Jeeny Ki saza Do…..
Sham e Mehfil Ho K Tu Jabh Soz Sey Hali Raha 
Tery parwany Bhee Is Lazat Sey Beghany Rahy
Shama Bhee Jal Jati Hai
Parwana Jal Jany K Bad
Aey Shamma Pooch Ham Sey Zabt e Muhabbat Ka Hosla
Tu To Ik He Rat Min Sari Jal Jati Hai…………………………..!
Zindagee Ho Meri Parwany Ki Soorat Ya Rab
Ilm Ki Shamma Sey Ho Mujh Ko Muhabbat Ya RAB!
Aik Naa Aik Shamma Andhery Main Jalaey Rakhiye
Subha Hony Ko Hai,              Mahol Banaey Rakhiye
Wo Shamma Ujala Jis Ney Kia Chalees Baras Tak Gharoo Main
Ik Roz Jhalakny Wali The Sab Duniya K Darbaroo'n Main………
Rat Shamma Bhuja K Bht dair Tak Mehfuil Sjaai Ham Ney
Main Apny Dil K Liye Rota Raha, Or Dil Kambakht Tery Liye
               Hun Main Parwana, Koi Shamma To Ho, Rat To Ho
                                        Jaan Deny Ko Bhee Hazir Hun Koi aici Bat To Ho
Dagh e Furaqat Sohbat e Shab Ki Jali Hui Hai
Aik Shama Reh Gaee Hai So Wo B Khmosh Hai
Jis Dil Py Naa Aye Chot Kbhi
Wo Dard Kisi Ka Kia jany
Khud Shamma Ko Maloom Nahee
Q Jal Jaty Hain Parwany
         Sab Ik charagh K Parwany Hona Chahty Hain
         Ajeeb Log hain Deewany Hona Chahty Hain